Mid-Iowa offers both Steerable and Non-Steerable Air Suspension Axles from Silent Drive, Inc, manufactured in Orange City, Iowa. Air adjustable suspension systems allow you to tailor your weight distribution to suit your vehicle requirements.
Silent Drive axles are among the most durable axles available and feature air-up & air down design for performance & reliability.
Features and Benefits
1) Patented "Uro-flex" Bushings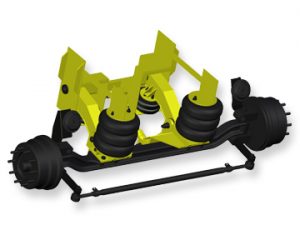 Patented, Free Rotation Design, bonds the urethane to the outer sleeve but allows the inner sleeve to rotate. Because of this free rotational design, shear and torsional stress on the bushing are eliminated. Rubber bushings are bonded to both the outer and inner sleeve and when the arm rotates, the bushing material is twisted and contorted resulting in high stresses causing pre-mature bushing failure. In addition, Urethane is a superior polymer which does not break down over time from exposure to petroleum products, acids, salts, and ozone that damage rubber. Urethane allows the suspension to flex in uneven terrain and cornering, yet it resists vehicle roll.
2) High Pivot Point
We engineer a higher pivot point into most of our pull arms to offer unmatched stability during cornering and while operating over uneven terrain. In addition, a high pivot point offers a drastic reduction in suspension hanger stress. In most cases, our pivot points are as much as 8″ to 10″ closer to the frame rail. Having the pivot point that close to the frame rails helps to eliminate most frame rail maintenance caused by other suspensions.
3) Short Mounting Envelope
Silent Drive offers some of the shortest mounting envelopes in the industry. Depending on the application, a Silent Drive suspension will often fit when other suspensions are too large.
4) Under Arm Lift
Most Silent Drive suspensions incorporate an "Under Arm" positive lift. In addition to quick lift response, an Under Arm lift offers superb driver comfort and reduced system maintenance.
5) "Huck Bolted" Pivot Points
All Silent Drive suspensions incorporate "Huck Bolted" pull arm and axle seat bushings. "Huck Bolting" is recognized in the industry for its durability and lack of maintenance.
6) Double Coil Spring Shocks

All Steerable Silent Drive suspensions incorporate double coil spring shocks for unsurpassed stability and driver control
7) Complete Mounting and Installation Kits
Silent Drive has kits available for a quick and easy installation. These kits include, but are not limited to, mounting hardware, airlines, valves, and brake fittings. Depending on the suspension, Silent Drive offers everything you need to do the complete installation.
8) Totally Unitized Axle and Suspension
Our suspensions and axles are totally unitized for reduced installation time. A unitized system includes a regulated, inside-cab control panel, brake protection check valve, two quick release valves, standard brakes, wheels or hubs, drums, one lower cross member, and auto slack adjusters & lower cross-member.
9) Full Line Supplier
Silent Drive offers a full line of air up / air down suspensions. In addition to the steerable and non-steerable pushers and tags, Silent Drive offers Parallelograms, Drive Axle, Primary Trailer and Liftable Trailer Suspensions.
10) Custom Suspension Design
Silent Drive offers internal capabilities to design and manufacture custom suspensions to meet your needs. Silent Drive has the ability to adapt, modify or design around customer and market needs. The "Loadmaster" and the AA-230 for roll-offs are indicative of their adaptability.
If you are in Iowa or Nebraska, call your Friends at Mid-Iowa for more information. 1-800-733-8731 or contact our sales department at [email protected]