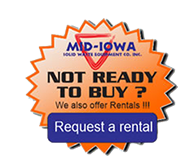 Mid-Iowa offers a complete selection of Street Sweeper to fit a wide variety of applications

If you are not ready to purchase, contact us about a rental today.
Contact Us
Rental Info
TYMCO provides powerful and efficient solutions for street sweeping, parking lot sweeping and airport sweeping applications. All of our models improve the appearance of these surfaces and have a positive impact on the environment. Our street sweepers and parking lot sweepers are powerful and easily maneuverable. TYMCO airport runway sweepers, ramp sweepers and taxiway sweepers are equipped with our cutting edge technology and are extremely reliable. All of our models have changed the sweeping industry and will deliver incredible results on even the toughest applications.
For information on specific models of Street Sweepers, please select the model below:
If you are in Iowa or Nebraska, call your Friends at Mid-Iowa to arrange a Demonstration today and let us show you what a Tymco Regenerative Air Sweeper can do for you ! 1-800-733-8731 or contact us at [email protected]