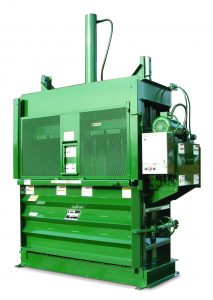 Vertical Balers are very popular with retail and commercial customers due to their small footprint and ability to create a Mill Size Bale. The 60 Vertical baler is our most popular size and when baling Cardboard (OCC) you will typically attain a 900-1,100 pound bale. These Balers allow you to eliminate the costly process of breaking down boxes by hand.
We also offer Vertical Balers in many other sizes to fit your specific needs.
Mid-Iowa offers Sales, Service and Rentals of Vertical Balers. Call us at 1-800-REFUSE-1 and let us help with your recycling needs.
If you are in Iowa or Nebraska, call your Friends at Mid-Iowa for more information.  1-800-733-8731 or contact our sales department at sales@mid-iowa.com